Metric Sound Production specializes in sound design and music composition and production. We make audio beds for animations, radio, commercials, television, film, theatre, software, and other mediums where audio is involved. This includes anything from a full musical score for stage to the sound of an animated rocket blasting off to space.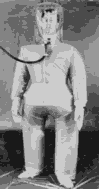 Heading Metric Sound is San Francisco Bay Area musician, composer and producer, Patrick Kaliski. Patrick has been working in the Bay Area with sound and music for over 10 years, involved with various music projects and as sound designer for Comedy World, a national radio and internet comedy house. Upon the demise of Comedy World during the 'dot bomb' era, Patrick decided to continue following his passion for sound, and create Metric Sound Production.
For music production, Metric Sound has at its fingertips an array of talented musicians and composers of various backgrounds. From electronica to classical to rock and beyond, our composers and musicians can create the sound and music appropriate for your production. We cover ALL genres!
For sound design, if we can't find what your piece needs in our sound library, we can use our foley skills and in-house recording studio to create custom sounds. We also have voice talent at our disposal for projects in need of dialogue.
Past work has included such celebrities as Kids In the Hall, Sandra Bernhard, Eddie Griffin, Harland Williams, Patrick Warburton, Chris Elliot, and Fred Willard amongst others. Please check out our "Listen" page and take a listen for yourself. Please note that much of the material on the "Listen" page is for mature listeners and viewers, and does not necessarily represent the views or sense of humor of Metric Sound Production.
Any Sound, Any Music, Any Day!